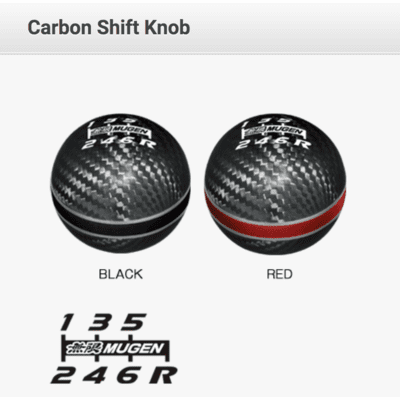 Mugen Carbon Fiber Spherical Shift Knob 6MT with Red/Black Stripe 54102-XLT-K2S0-RD/BK
In Stock Ship 2-3 Days, Pre-Order ship in 3.5 Weeks.

Introducing Mugen's newest shift knob design - the Spherical Carbon Fiber Knob for 6-Speed Hondas and Acuras.

Flawless carbon interweave wrapped around a weighted center and covered in a deep, durable clear finish. The 6-speed shift pattern is printed in light metallic silver on the top and features the Mugen logo reversed out of the neutral bar.

The addition of a deep metallic red stripe around the center, where the upper and lower carbon interweaves meet creates a seamless finish to this amazing accessory.

Perfectly weighted at 159.4 grams and measuring 50mm in diameter, the Mugen Spherical Carbon Shift Knob helps smooth out and balance your OEM cable shifter mechanism, providing cleaner, more precise shifts. Mugen Part Number: 54102-XLT-K1S0-RD

This product fits All Honda with Manual 6 Speed Transmissions. (CR-Z (2010+) 6MT Only, 2006-2011 8th Gen Honda Civic Si, Honda Fit (2009+) 6MT Only, RSX Type S(2002-2006) 6MT Only, RSX Type S (2002-2004) 6MT Only, RSX Type S (2005-2006) 6MT Only, S2000 (2000-2003), S2000 (2004-2009), TSX (2004-2008) 6MT Only, TSX (2009+) 6MT Only. FK7/FK8 CTR All with 6MT Only.