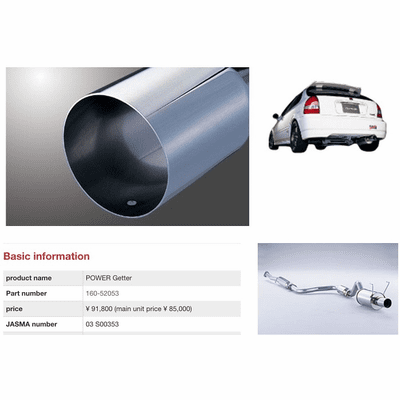 NEW Fujitsubo Stainless Steel Exhaust Cat-Back PowerGetter JDM Civic EK9 B16B 1996-2000


IN STOCK AND READY TO SHIP!

Fujitsubo Stainless Steel Exhaust Cat-Back PowerGetter JDM Civic EK9 B16B 1997-2000.

This cat-back is a JDM Specific application, you will need the JDM Cat or JDM Test Pipe then will be bolt on. Brand New MSRP is 117,700 Yen or about $1,100. Please note that these are the pictures of this actual exhaust system that you're getting. The Powergetter Exhaust System weights a mere 11.4kg vs. 17.1kg for the Stock.

Fujitsubo PowerGetter Exhaust System: Civic SiR B16A Part Number: 160-52042. JASMA Certification Number: 03-S00350. These Cat-back is manufactured to order at the main Fujitsubo main factory so it is rather difficult to get.

About FUJITSUBO: Since itís establishment in 1931, Fujitsuboís spirit and belief is to produce and offer the highest quality product in the market. Through its research and development by using the latest technological equipment, Fujitsubo has been able to manufacture some of the highest quality and highest power output exhaust systems in the market. Fujitsubo also engages in racing activities such as circuit, WRC, gymkhana and dirt trail. Through these varying forms of racing, they have truly put their products to the test and at the same time acquire accurate data for new product development. In addition, Fujitsubo is part of the ISO (the International Organization for Standardization) which gives you the assurance that each and every exhaust that comes out of their production line is up to specification before releasing it to you, the tuner enthusiast!

*Ship via FEDEX GROUND ONLY so please DO NOT select any other shipping method.




Below are pics of a mint DC2 PowerGetter, your until will be brand new in box, pics will be updated when we have it:




Being that your exhaust is new, you will get one of these: