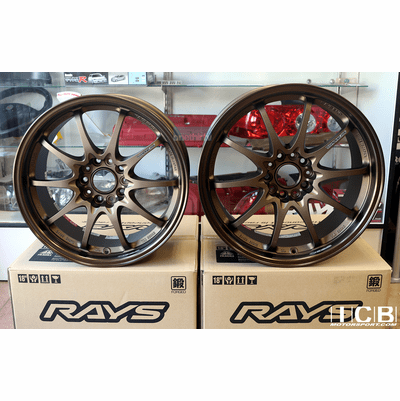 Rays Volk Racing CE28N Bronze Wheels Set 5X114.3 17X8 +33 Offset 18X8.5 +30 Offset Honda/Acura NSX 91-2005 NA1 NA2
LIMITED IN STOCK!

The Volk Racing CE28N wheel is one of the Lightest and Strongest Wheels Rays Engineering offers! The Volk Racing CE28N wheel is a One Piece Forged (Monoblock) Aluminum Wheel.

Specs: Front Wheels 17x8, 5x114.3 pcd, +33 offset, Weights 15.54 lbs or 7.05 kg. Rear Wheels 18X8.5, 5X114.3, +30 Offset, weighs 16.99 lbs or 7.705 kg. Finished in RAYS FAMOUS Anodized Bronze Color.

Features:

Forged Monoblock Wheel
10 Spoke Model
Super Light; 15.54 lbs/7.05 kg per wheel for front wheels, 16.99 lbs or 7.705 kg rear wheels.
Painted in Volks famed Bronze
Painted Bronze Flat Center Caps are OPTIONAL
Black Valve-stems, caps are included


*Price is for a set of 4 wheels (2X17X8 and 2X18X5.5).

**Shipping is FEDEX Ground Only, please do not select any other shipping method.